A car rental at Ben Gurion airport is really the best way to go about things. When you rent a car at Tel Aviv airport, you're taking care of travel arrangements in Israel in a straightforward fashion.
TLV airport has a few particulars that you are going to want to keep in mind:
If you are planning a visit to Israel, the first thing you are going to want to do is take care of your vehicle rental arrangements.
The second thing you want to do is understand how this airport functions, particularly in terms of proximity to nearby destinations.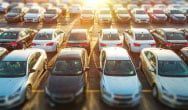 Car Rental Tel Aviv Airport - Her'e a MUST read!
Ben Gurion airport handles approximately fifteen million people a year - This means things are going to be a little hectic right from the start.
Thankfully, navigating this airport is a fairly straightforward matter. Stick to the protocol for moving through the airport, and you'll be at your car rental in no time.
Chances are, your plane is going to land at Terminal 3. Renovated in 2004, the terminal features tons of duty-free shops, as well as banking/currency exchange, post offices, and dining vicinity.
You will note that this airport features plainclothes and uniformed police, and that it has some of the strictest security measures of any airport on the planet.
As you leave your gate, you'll note security personnel at the top of the escalator. They may have some questions for you. Answer frankly and honestly. Expect further questions at passport control. In certain situations, you may be taken to a private area for additional inquiries.
Do not panic, and resist even the slightest temptation to make jokes. They will not be amused. With that in mind, note that there is no reason to worry. They mean well and have your safety at heart. Feel free to ask them for directions if you feel lost.
If you went to car rental tel aviv ahead of time, relax. It will be there waiting for. Once you have answered all questions, and perhaps emptied your bags, you should be permitted to get to your rented car, and leave Ben Gurion airport behind. These are the basics of Tel Aviv airport.
Car Rental Tel Aviv Airport - Getting To Your Next Destination
Car rental Ben Gurion airport is not your only option. Beyond being able to rent a car, you have other modes of transportation available to you, including trains, taxis, and buses. If you're going to Tel Aviv, it will take you about forty-four minutes via bus, about twenty-two minutes via taxi, or forty-three minutes via train.
Getting to Jerusalem takes about an hour and ten minutes via bus, forty-four minutes via taxi, or nearly two hours via train. Making it to Haifa can take around 2 and a half hours (or longer) via bus, an hour and forty by taxi, or 2-3 hours via train. In other words, you're talking about options that are costly, time-consuming, or both of these things.
At the end of the day, your best to get anywhere from Ben Gurion airport to your final destination is via car. With that thought in mind, the prospect of renting a car is something that suddenly becomes appealing. The benefits of car rental in Israel are obvious. You're getting the most affordable transportation options.
You're also getting supreme comfort. The concept of a sherut (shared taxi) does not emphasize this thought at all. Car rentals represents the only possibility that allows you to travel quickly, comfortably, and at a price you know you can afford.
Rent A Car from Ben Gurion Airport
Use a car rental through Tamir- Car renral cheap in Israel for all your Ben Gurion airport needs.
When you rent a car with the best, you're getting from TLV airport to your chosen destination with a reliable car of your choosing. Give yourself the best Tel Aviv airport transportation option possible.
Other Issues You Might Be Interested In